Search results for
Suzuki Alto
6 cars found in Featured Cars
Covid-19 update
Importing continues as usual during the Covid-19 pandemic. Purchasing, shipping, customs clearance and compliance are largely unaffected and business continues as normal.
Read more
customer feedback
I just wanted to let you know I collected my Caldina GT-T on the weekend, and it is absolutely fantastic.

It came in virtually right on budget, which left me a few dollars to do a few nice things to it, such as the plates and a new set of wheels.

Thanks A LOT for always happily answering my pestering questions, and keeping me well and truly informed the whole way through the process. Having never imported a car before it was very reassuring to have someone keep me up to speed with everything. I'll be more than happy to refer any of my friends to you, as you know i've already pointed a friend in your direction, and after having shown the Caldina off to my family and friends over the weekend, don't be surprised if you have a few more customers shortly.

- Leigh K

Melbourne, Australia

2000 Toyota Caldina GT-T
importable cars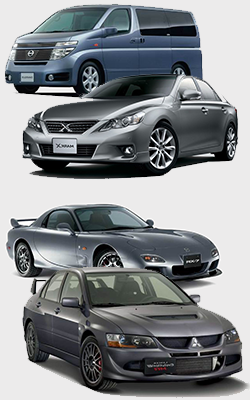 See what models are allowed for import, including model features, specs and images.
Read more
2016

Suzuki Alto Turbo RS
660cc
5 speed tiptronic auto
74,000 km
2015

Suzuki Alto Turbo RS
660cc
5 speed tiptronic auto
93,000 km
2015

Suzuki Alto Turbo RS
660cc 4WD
5 speed tiptronic auto
90,000 km
2014

Suzuki Alto Turbo RS
660cc
5 speed tiptronic auto
50,000 km
2015

Suzuki Alto Turbo RS
660cc 4WD
5 speed tiptronic auto
61,000 km
2017

Suzuki Alto Turbo RS
660cc
5 speed tiptronic auto
39,000 km
6 cars found in Featured Cars