customer feedback
Wow. What an incredible machine.

It's like Dave said on the phone recently: you get a lot of car for your money.

Previous Japanese owner obviously a most fastidious person judging by the overall condition of the vehicle, and as you suggested likely used public transport mon-fri as the car has averaged under 80km per week, over 9 years! Evidently a younger person too as evidenced by expensive AME Shallen aftermarket wheels, [and springs,] plus the hard drive is full of j-pop.

Thanks Ben, we did well.

- Graham H

QLD, Australia

2006 Nissan Skyline 350GT Type SP
The J-Spec Mileage Promise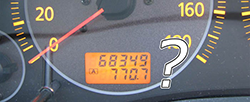 Speedo tampering is rife in the Australian market to the point where more imports than not sold by Australian dealers have had their mileage wound back. See how importing yourself easily avoids this pitfall.
Read more
Nissan Fuga compliance now available
Compliance for the Nissan Fuga is available, import Nissan's flagship luxury/sports sedan now!
Read more
.